Graduate School Dean Underwrites New Research Award

The Graduate School is accepting applications for its newest graduate research grant, the Thomas L. Reynolds Graduate Student Research Fellowship. This unique award is named for the dean of the UNC Charlotte Graduate School.
"Many fellowships available to graduate researchers carry restrictions that often fall short of meeting all of the student's needs," Dean Tom Reynolds said. "I can remember from my own days as a graduate student trying to find ways to cover those gaps. This grant is designed to help meet that need."
The Reynolds Fellowship supports program-specific research by helping cover the cost of living expenses, conference travel – even tuition. This will enable recipients to better focus on their research. Some typical items covered include travel to conferences to present research and lab and research supplies.
Doctoral students who have completed three semesters and master's students who have completed at least one semester can receive Reynolds Fellowship awards up to $1,500. The number of grants awarded each year is determined by the level of donations received.
In its 2017 inaugural year, the Reynolds Graduate Student Research Fellowship went to three individuals: Benjamin Gordon, biology/kinesiology; Britney Phippen, biological sciences; and Sara Sagui-Henson, health psychology.
"The Reynolds Fellowship has been immensely helpful in allowing me to conduct my dissertation research," Sagui-Henson said. "With this funding, I was able to purchase equipment for my study, including a large external hard drive to back up and store my electrocardiogram heart rate data, as well as compensate participants for completing my study."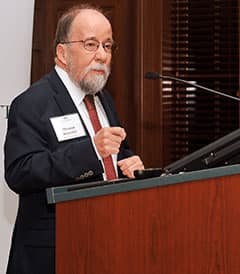 Sagui-Henson's research requires accuracy as it examines how reactions to stress can affect our weight and other risk factors for heart disease, stroke and Type 2 diabetes. She stated, "Being able to pay participants for their time allows me to obtain a more representative sample, which directly improves … my results and the conclusions I can draw from my research."
Phippen's research focuses on reducing the impact of bacteria on humans by understanding how they evolve and survive in nature. She studies the bacterium Vibrio vulnificus that grows in warm saltwater.
"Since we were given this (Reynolds Fellowship) money directly rather than to the lab, I was able to use it to travel to a conference to present the research in my proposal (as well as) travel to the coast and do some field work," said Phippen.
Gordon is part of a team led by Reuben Howden, associate professor of kinesiology. He is researching isometric exercise – flexing muscles without moving a joint – as a means of lowering blood pressure. Their work has shown that exercising each hand for only a few minutes a few times per week can, over time, lower blood pressure by as much as 10 percent. He received the Reynolds Fellowship for his latest project that examines the mechanisms in the bloodstream – or markers – that can explain what is causing fluctuations in blood pressure.
"These funds were a direct support of additional research lab supplies that we needed to purchase before the final project of my dissertation started," Gordon said. "Because the funds go directly into the student's account, it can help offset research and associated costs in several ways."
According to Gordon, high blood pressure is the leading risk factor for mortality, costing the health care system $46 billion per year. "Better understanding the factors that drive blood pressure will allow us to continue to fine tune our approach to blood pressure control," he said.
Reynolds created the fellowship out of the understanding that many graduate student researchers live on tight budgets. This award helps bridge the gap by carrying fewer restrictions than most funding sources.
"As North Carolina's urban research university, UNC Charlotte understands the relationship between research and graduate studies," Reynolds said. "We know that to be successful in their careers, our graduate students must have not only excellent academic preparation but also the opportunity to think, to explore and to do their best work."
The application window for the Reynolds Graduate Student Research Award is March 1 through April 1. For more information, visit the Graduate School Fellowship page.
By: Brian White
Photo: Reynolds Graduate Student Research Award recipients for 2017 were Benjamin Gordon, biology/kinesiology; Britney Phippen, biological sciences; and Sara Sagui-Henson, health psychology.