Proteostasis Research
Charlotte Group for Proteostasis Research (CGPR)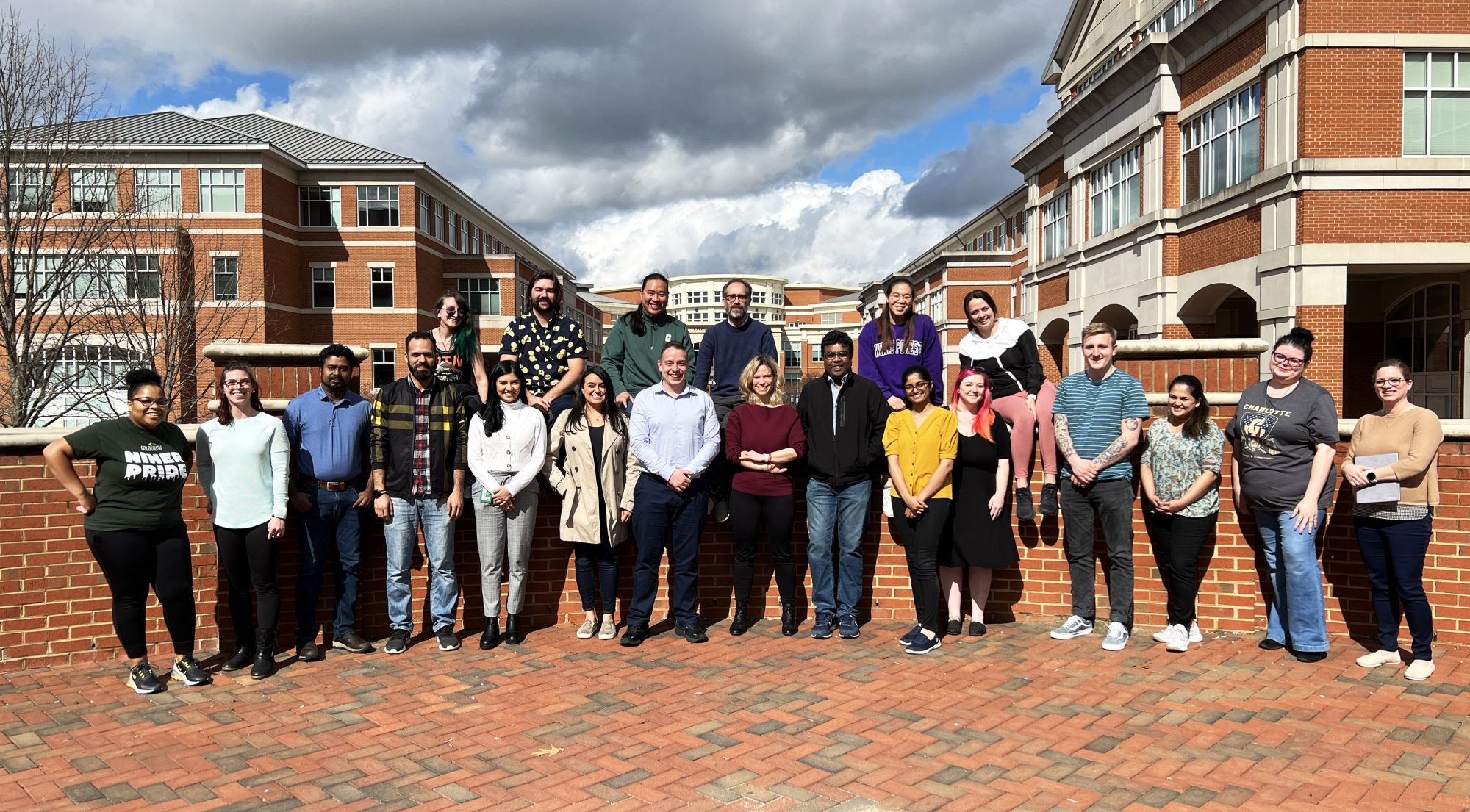 What is Proteostasis?
Proteostasis is the mechanism through which organisms maintain a healthy balance of proteins. This is a complex process that involves the correct production, folding, transportation and degradation of all proteins in cells.
​What are the goals of the CGPR?
The GCPR consist of a network of researchers at UNC Charlotte that study various aspects of proteostasis. Many of the group have published studies and been awarded research grants together. We have regular meetings to discuss recent work in the field and to share our own findings. The CGPR aims to promote a rich training experience for undergraduate and graduate students by providing hands-on training with purified proteins, single-celled and multicellular organisms to understand the response to environmental stress.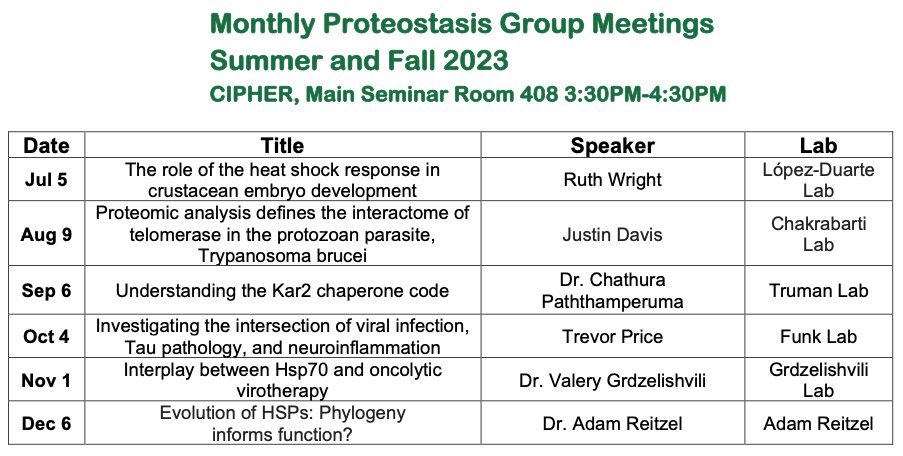 Dr. Andrew Truman – The Chaperone Code – GROUP LEADER

Dr. Truman studies the many post-translational modifications of Hsp70, including their role, regulation, and how they are altered in disease.
Dr. Patricija van Oosten-Hawle – Organismal Proteostasis

Dr. van Oosten-Hawle studies how Hsp90 and cross-tissue stress signaling regulate organismal proteostasis in health, aging and disease using C. elegans as a model system.
Dr. Adam Reitzel – Evolution of Molecular Chaperones

Dr. Reitzel studies the response of marine organisms to heat stress and the evolution of core chaperones including Hsp70 and Hsp90.
Dr. Kristen Funk – Viruses and Neurodegenerative Disease

Dr. Funk studies the connection between viral infection and the protein misfolding associated with the onset of Alzheimer's disease.
Dr. Richard Chi – Protein Trafficking and Autophagy

Dr. Chi studies the processes that govern the delivery and exchange of biological cargoes that include nutrients and signaling receptors.
Dr. Kausik Chakrabarti – Telomeres and Molecular Chaperones

Dr. Chakrabarti studies many facets of telomeres including how they are regulated by chaperones such as Hsp60, Hsp70 and Hsp90.
Dr. Valery Grdzelishvili – Interplay Between Chaperones and Viruses

Dr. Grdzelishvili studies how viruses may utilize host chaperone machinery for infection and replication.
Dr. In Hong Yang – Organelle trafficking in neurological disorders

Dr. Yang is developing HTS tools to screen drugs that control organelle trafficking in neurological disorders.
Dr. M. Brittany Johnson – Interplay between proteostasis and infection

Dr. Johnson studies how bacterial infection impacts cellular proteostasis.
Dr. Didier Dréau – Chaperones and the Inflammasome

Dr. Dréau investigates cell-cell interactions, inflammation and chemokine signaling with interest in ligands' functionality, availability and stability as potential targets to prevent cancer progression. In particular, the role of core chaperone HSP70 and HSP90 associated in steady states of key functional inflammasome proteins are explored.
Dr. Don Jacobs – Understanding protein dynamics for drug discovery

Dr. Jacobs studies protein function, protein interactions and environmental effects from a physics point of view.
Publications
Latest publications from CGPR
1. Ketchum, R.N., Davidson, P.L., Smith, E.G., Wray, G.A., Burt, J.A., Ryan, J.F. and Reitzel, A.M. (2022) A Chromosome-level Genome Assembly of the Highly Heterozygous Sea Urchin Echinometra sp. EZ Reveals Adaptation in the Regulatory Regions of Stress Response Genes. Genome Biol Evol, 14.
2. Stanton, D., Justin, H.S. and Reitzel, A.M. (2022) Step in Time: Conservation of Circadian Clock Genes in Animal Evolution. Integr Comp Biol, 62, 1503-1518.
3. Krueger, Q.A., Shore, M.H. and Reitzel, A.M. (2022) Comparative transmission of bacteria from Artemia salina and Brachionus plicatilis to the cnidarian Nematostella vectensis. FEMS Microbiol Ecol, 98.
4. Wessel, G.M., Kiyomoto, M., Reitzel, A.M. and Carrier, T.J. (2022) Pigmentation biosynthesis influences the microbiome in sea urchins. Proc Biol Sci, 289, 20221088.
5. Baldassarre, L., Ying, H., Reitzel, A.M., Franzenburg, S. and Fraune, S. (2022) Microbiota mediated plasticity promotes thermal adaptation in the sea anemone Nematostella vectensis. Nat Commun, 13, 3804.
6. Vyas, H., Schrankel, C.S., Espinoza, J.A., Mitchell, K.L., Nesbit, K.T., Jackson, E., Chang, N., Lee, Y., Warner, J., Reitzel, A. et al. (2022) Generation of a homozygous mutant drug transporter (ABCB1) knockout line in the sea urchin Lytechinus pictus. Development, 149.
7. Goyal, S., Segarra, V.A., Nitika, Stetcher, A.M., Truman, A.W., Reitzel, A.M. and Chi, R.J. (2022) Vps501, a novel vacuolar SNX-BAR protein cooperates with the SEA complex to regulate TORC1 signaling. Traffic, 23, 192-207.
8. Ying, H., Hayward, D.C., Klimovich, A., Bosch, T.C.G., Baldassarre, L., Neeman, T., Foret, S., Huttley, G., Reitzel, A.M., Fraune, S. et al. (2022) The Role of DNA Methylation in Genome Defense in Cnidaria and Other Invertebrates. Mol Biol Evol, 39.
9. Baldassarre, L., Reitzel, A.M. and Fraune, S. (2023) Genotype-environment interactions determine microbiota plasticity in the sea anemone Nematostella vectensis. PLoS Biol, 21, e3001726.
10. Smith, E.G., Surm, J.M., Macrander, J., Simhi, A., Amir, G., Sachkova, M.Y., Lewandowska, M., Reitzel, A.M. and Moran, Y. (2023) Micro and macroevolution of sea anemone venom phenotype. Nat Commun, 14, 249.
11. van Oosten-Hawle, P., Backe, S.J., Ben-Zvi, A., Bourboulia, D., Brancaccio, M., Brodsky, J., Clark, M., Colombo, G., Cox, M.B., De Los Rios, P. et al. (2023) Second Virtual International Symposium on Cellular and Organismal Stress Responses, September 8-9, 2022. Cell Stress Chaperones, 28, 1-9.
12. Nitika, Zheng, B., Ruan, L., Kline, J.T., Omkar, S., Sikora, J., Texeira Torres, M., Wang, Y., Takakuwa, J.E., Huguet, R. et al. (2022) Comprehensive characterization of the Hsp70 interactome reveals novel client proteins and interactions mediated by posttranslational modifications. PLoS Biol, 20, e3001839.
13. Okusha, Y., Guerrero-Gimenez, M.E., Lang, B.J., Borges, T.J., Stevenson, M.A., Truman, A.W. and Calderwood, S.K. (2022) MicroRNA-570 targets the HSP chaperone network, increases proteotoxic stress and inhibits mammary tumor cell migration. Sci Rep, 12, 15582.
14. Omkar, S., Wani, T.H., Zheng, B., Mitchem, M.M. and Truman, A.W. (2022) The APE2 Exonuclease Is a Client of the Hsp70-Hsp90 Axis in Yeast and Mammalian Cells. Biomolecules, 12.
15. Omkar, S. and Truman, A.W. (2022) Feeling the heat: how chaperones deal with biomolecular condensates. Trends Biochem Sci, 47, 728-729.
16. Millson, S.H., Truman, A.W. and Piper, P.W. (2022) Hsp90 and phosphorylation of the Slt2(Mpk1) MAP kinase activation loop are essential for catalytic, but not non-catalytic, Slt2-mediated transcription in yeast. Cell Stress Chaperones, 27, 295-304.
17. Knighton, L.E., Nitika, Omkar, S. and Truman, A.W. (2022) The C-terminal domain of Hsp70 is responsible for paralog-specific regulation of ribonucleotide reductase. PLoS Genet, 18, e1010079.
18. Jinkerson, R.E., Russo, J.A., Newkirk, C.R., Kirk, A.L., Chi, R.J., Martindale, M.Q., Grossman, A.R., Hatta, M. and Xiang, T. (2022) Cnidarian-Symbiodiniaceae symbiosis establishment is independent of photosynthesis. Curr Biol, 32, 2402-2415 e2404.
19. Reagin, K.L. and Funk, K.E. (2022) The role of antiviral CD8(+) T cells in cognitive impairment. Curr Opin Neurobiol, 76, 102603.
20. Funk, K.E., Montagne, A., Falcao, A.M. and Da Mesquita, S. (2022) Editorial: Multifaceted Interactions Between Immunity and the Diseased Brain. Front Cell Neurosci, 16, 941590.
21. Klotz, K., Radwan, Y. and Chakrabarti, K. (2022) Dissecting Functional Biological Interactions Using Modular RNA Nanoparticles. Molecules, 28.
22. Catacalos, C., Krohannon, A., Somalraju, S., Meyer, K.D., Janga, S.C. and Chakrabarti, K. (2022) Epitranscriptomics in parasitic protists: Role of RNA chemical modifications in posttranscriptional gene regulation. PLoS Pathog, 18, e1010972.
23. Davis, J.A. and Chakrabarti, K. (2022) Telomerase ribonucleoprotein and genome integrity-An emerging connection in protozoan parasites. Wiley Interdiscip Rev RNA, 13, e1710.