Helping Hand: Student Club Uses 3D Printers To Change Lives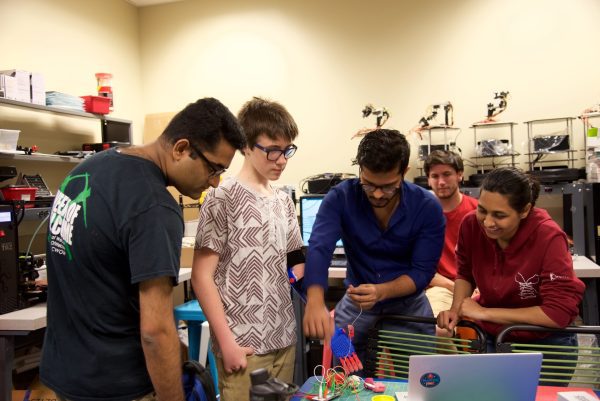 The UNC Charlotte students clustered around young Landon Boyer in the Woodward Hall classroom, just a few steps from the CCI Makerspace lab where they had coalesced as a team over the past semester.
Boyer flexed his elbow and curled the fingers of his new red and blue prosthetic hand around a bottle of tea. The students greeted the sight with cheers, tears and fist bumps with Boyer, before taking him to see the lab where the device was created.
For months, the UNC Charlotte Helping Hand Project team had used 3D printers and other tools in the Makerspace lab within the College of Computing and Informatics (CCI) to build recreational prosthetic arms for Boyer and other children with limb differences.
While team members had already shipped a device to Amy, a girl in Texas, their visit with Boyer marked the first time they had witnessed face-to-face the impact of their work.
"Hands-on designing something, putting it together, putting hours into this (Makerspace) room to build a final product that could be given to a kid and trying to get it as perfect as it possibly can be — there's something uniquely special about that," said Henry Weaver, president of the Helping Hand Project student group "It gives you motivation and drive to finish something that could potentially be very great."
For Weaver, a senior in the biology honors program and a Spanish and chemistry minor, moments like these put into context the time spent in Makerspace.
"You're in here, and you get a bunch of failed prints time after time that you're putting together, and it's frustrating and tedious, and sometimes you lose track of what you're doing," Weaver said.
Inspirational Power
But then, along comes a video from Amy, thanking the team for her device printed in her favorite color purple and for the care package that included a stuffed bear in Charlotte 49er gear. Or, they receive photos of 13-year-old Boyer at home, showcasing his dexterity with his device, and they are reminded and re-energized.
"Just to be able to see where the research and development and education make a difference — a real positive difference — in somebody's life, to see the light go on in his eyes when he gets his new 'robot hand,' is incredible," said David Wilson, a software and information systems professor who co-advises the Helping Hand Project student group with biology professor Richard Chi.
Wilson's overall research interests include human-computer interaction, which led to an interest in makerspaces and fabrication — which led to the opening of Makerspace in CCI in the fall of 2016. The space is meant to inspire the process of making, which includes making things for social good, such as with the Helping Hand Project.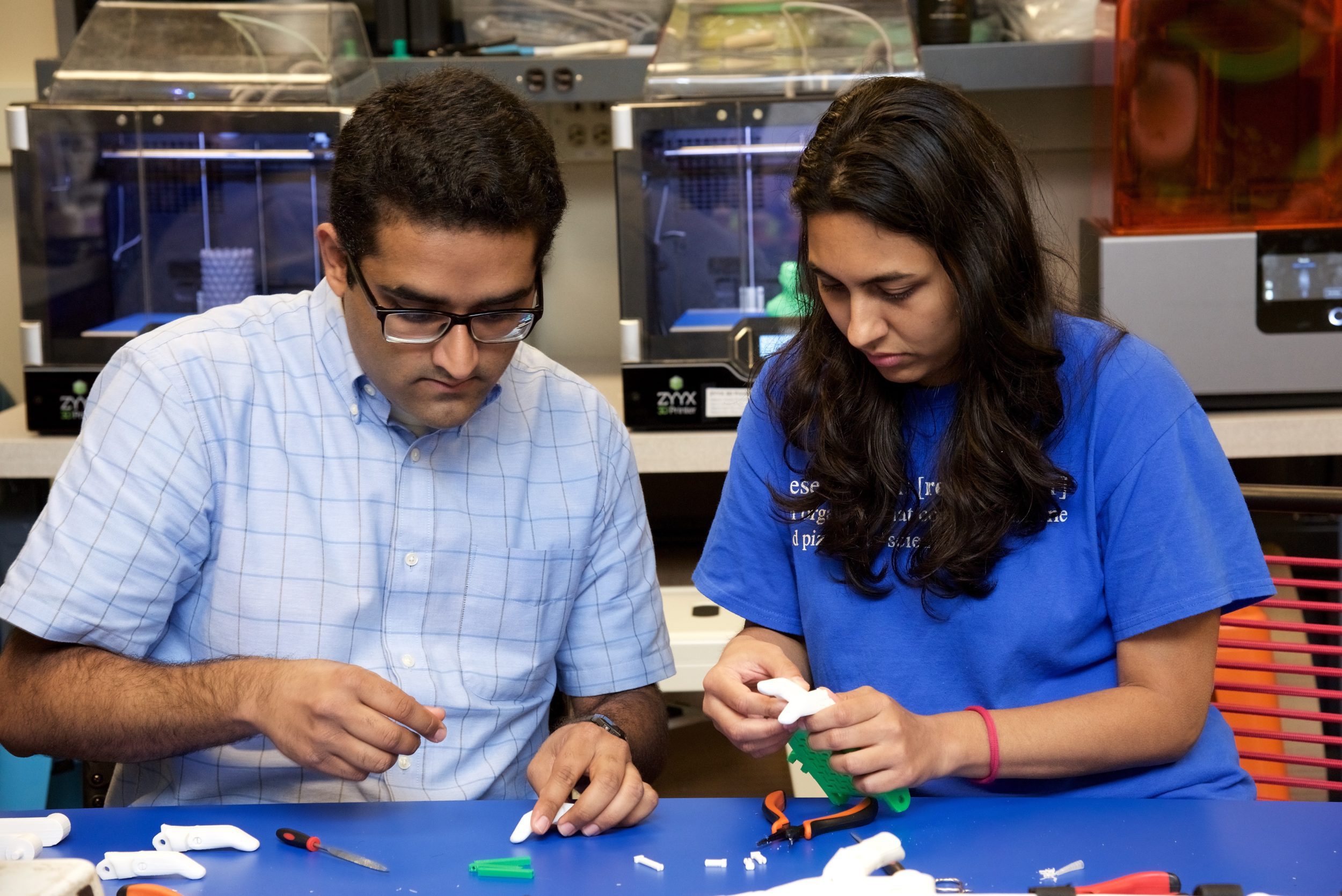 Students in biology, engineering, computer science, public relations, exercise science, psychology, education, marketing and other majors have been drawn to the Helping Hand Project. They come together with their differing skills, knowledge and future aspirations, united by their shared drive to meet a pressing human need. While these printed devices are not intended to be a complete replacement for an FDA regulated, professionally consulted prosthesis, they do provide the user with an affordable introductory device. They also offer some functionality for grasping light and pliable objects, as well as having shown to boost many recipients' confidence.
Brandon Glover is project director for the Helping Hand student group and was one of the first students to sign on to start the effort. He has since completed his bachelor's degree in exercise science and is on a path to pursue osteopathic medicine.
"Since the beginning of this journey, I have noticed a change in myself," he said. "I have become more interested in trying to find ways to directly help our community and specifically our children. I am very interested in mission work and plan to use my medical degree to help people all around the globe."
Multilevel Learning
Johanna Okerlund, who oversees Makerspace, is pursuing a doctoral degree in computing and information systems and is a member of the Helping Hand Project team. She has noticed multiple levels of learning in the group.
"It's very empowering to know that with tools that are right around you, you can actually help real people," Okerlund said. "You learn what the machines can and can't do because you try something that sort of reaches that limit, and it doesn't work. Another sort of learning is about working with other people, so you learn in what ways you are similar to and different from other people."
The students have learned not to assume how others perceive aspects of the work and to tune in to possible differences in approach or perception, she said. "If you can notice those differences and articulate those differences, you actually can build on those differences and come together with an even better thing," she said.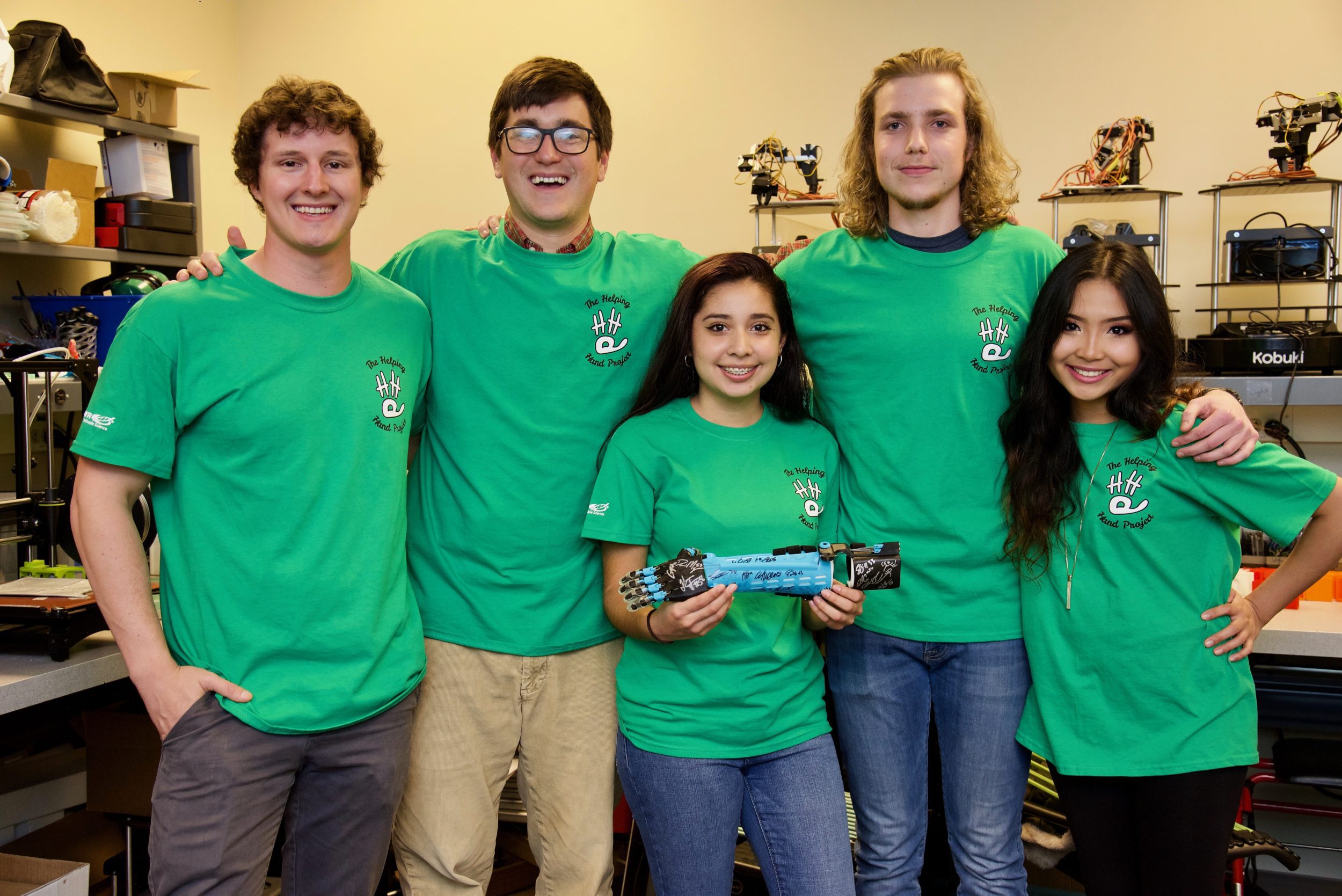 Like the students, the group's two faculty advisors come from different disciplines and draw from their distinct knowledge, interests and skills.
When Chi, a molecular and cell biologist, and his wife learned their child would be born with a limb difference, he read academic literature to learn all he could. He found an international community focused on sharing open-source designs and making devices for children, and he connected with other families.
Chi built a relationship with Jeff Powell, founder of the Helping Hand nonprofit organization in Chapel Hill, with which the UNC Charlotte group is affiliated. Powell, who graduated from the biomedical engineering program at UNC Chapel Hill, has joined UNC Charlotte this fall as a master's degree student in biology and is part of both Chi's and Wilson's research teams.
Chi recalls his delight in discovering the Makerspace lab at CCI. "I learned about printing recreational prosthetics using a 3D printer and started looking for a local place to print these devices, and I came across the newly opened Makerspace just one floor down from my office," he said.
Since the space is open to the UNC Charlotte community, he headed downstairs to learn to use the printer.
Wilson noticed Chi working, and as he often does with people using the space, he struck up a conversation about Chi's project.
'Fabulous Project'
"He turned around and said, 'Well, I'm 3D printing a prosthetic hand for a 9-year-old girl in Texas,' and I was floored," Wilson said. "We had opened the space, and I had never imagined out of the gate that we would get such a fabulous project incubated right here.
"And I immediately started trying to help figure out how we could do more and bigger and better on this kind of making for social good," Wilson continued. "From that point, we started working together writing grant proposals and working on other ways of outreach and connection with the Helping Hand Project out of Chapel Hill. And, it all took off from there."
Chi also reached out to biology student Weaver, who intends to be a doctor and researcher, and who immediately took the role of president of the Helping Hand student group. Other students quickly signed on.
"I think the beauty of it is, you don't have to have a major interest in engineering or biology," Chi said. "You just need to have this desire to help out on a topic that is appealing to many people. They may not know someone with a limb difference, but they can relate to a child who has a limb difference. And everything in your heart says —let's do whatever we can to give this child anything we can that could make their life a little bit better."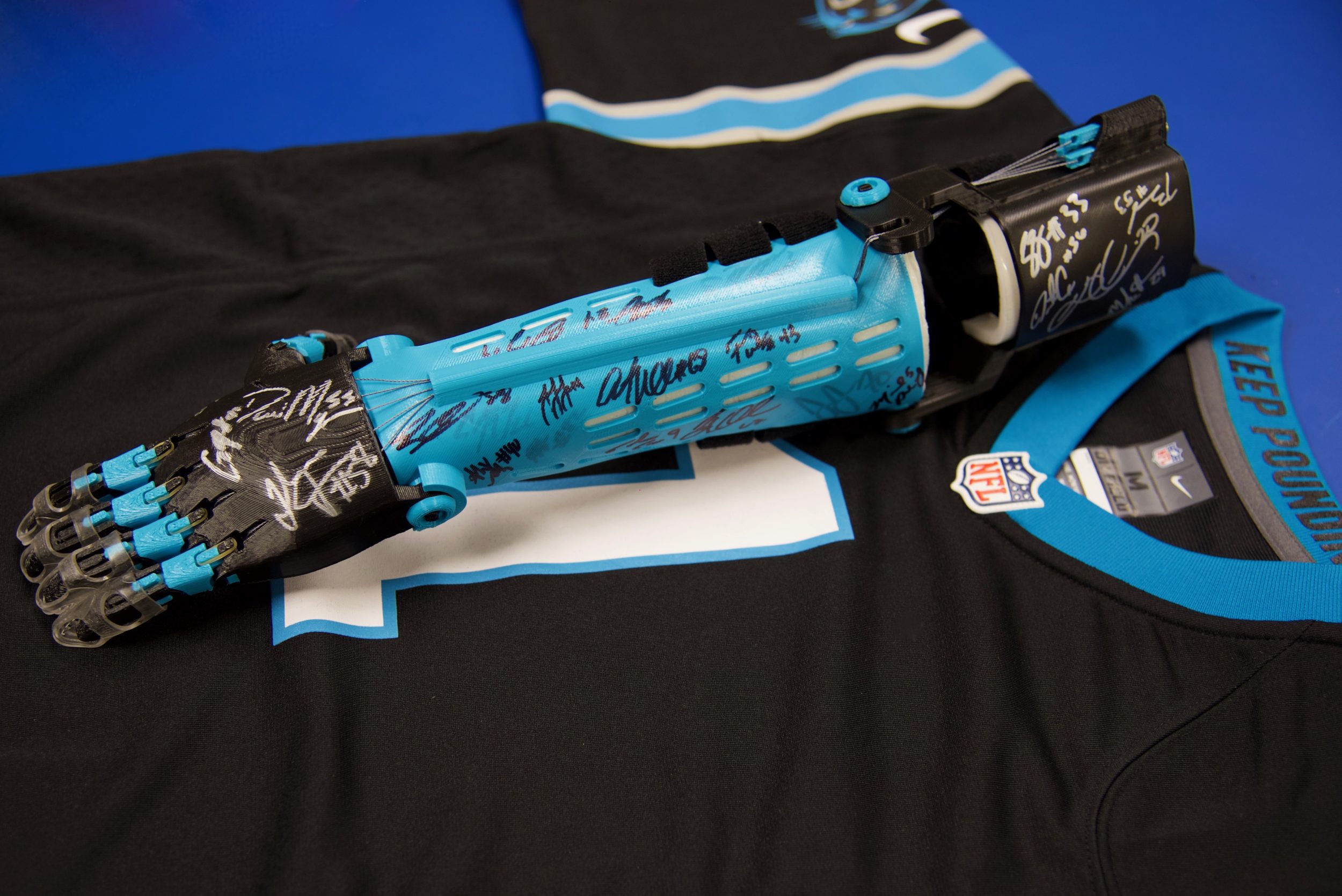 Focused Fundraisers
While the designs are open-source, the students still must raise money to purchase materials for printing and to cover other expenses. Past efforts included a "rent a puppy" activity and a "pie your professor" event. In the fall, their Helping Hand Project was part of the Crowdfund UNC Charlotte effort, raising 130 percent of its goal.
One family that helped raise awareness of the students' fundraising effort is the Boyer family — Landon and his brothers, Ryan and Logan, and his mom and dad, Mariann and Tom. For them, the relationships and experiences have been invaluable.
"There are plenty of children out there who would benefit from the experience as well as the arm," Mariann Boyer said. "Because the experience of meeting with these guys and seeing how these arms are built and everything that goes into this is useful in and of itself. And the arm is just an added bonus to that."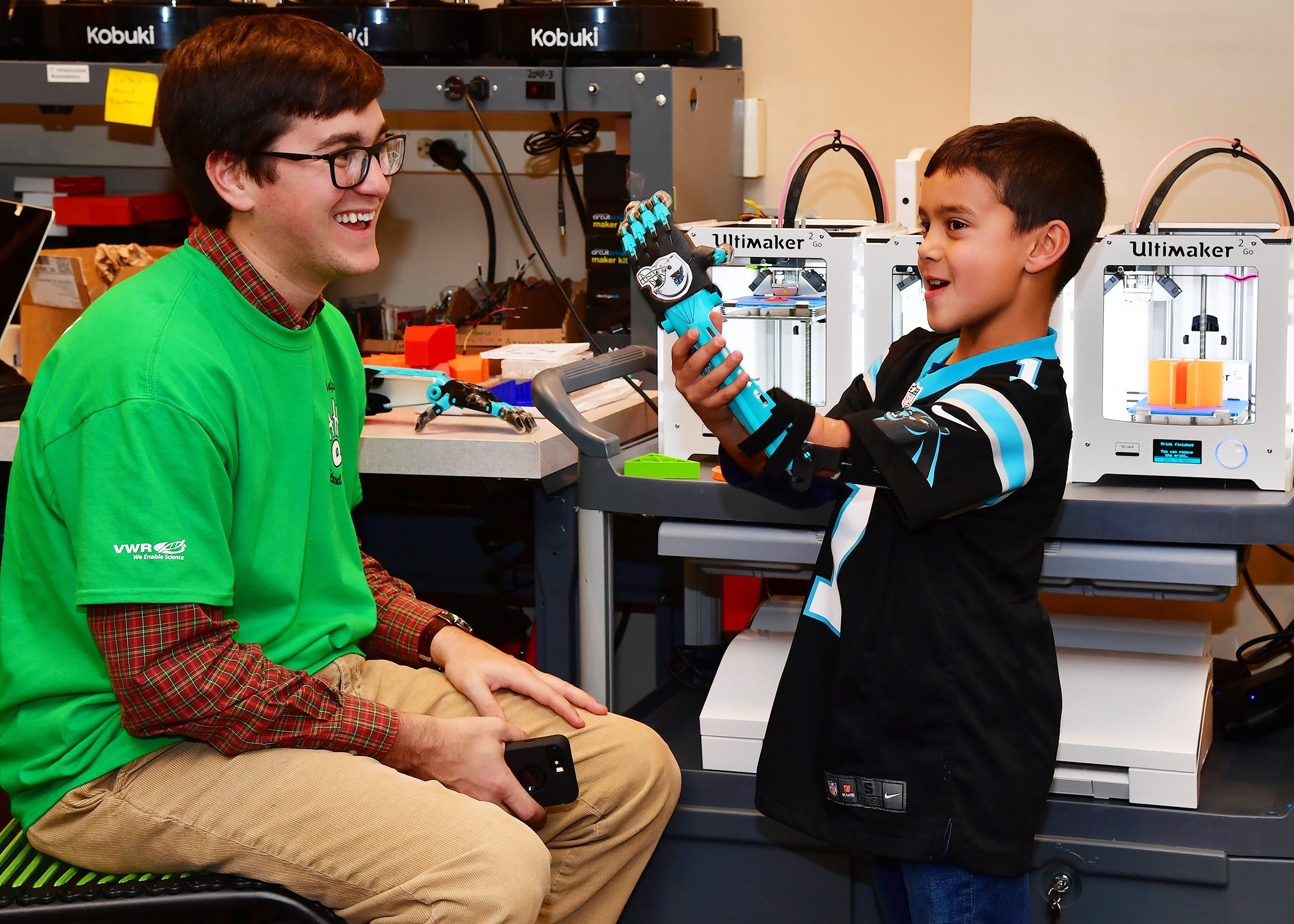 In mid-December, 2017, the Helping Hand Project at UNC Charlotte presented the latest device the students had made to 7-year-old Joel Payne (pictured above with UNC Charlotte Helping Hand creator Jeff Powell) of the Statesville/Taylorsville community. He and his parents and older brother came to UNC Charlotte to be fitted for the device. They also went home with a second, keepsake arm signed by running back Jonathan Stewart and other Carolina Panthers. The Charlotte Observer provided this account of the presentation.
Words and Images: Lynn Roberson, CLAS Communications Director (Last Image: Wade Bruton, University Photographer)