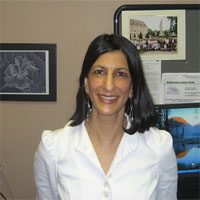 Farah Bahrani-Mougeot, Ph.D.
Carolinas Medical Center - Cannon Research Center
farah.mougeot@atriumhealth.org
Academic Degrees:
1989 M.S. Biology/Bacteriology, University of North Carolina at Charlotte
1994 Ph.D. Molecular Microbiology and Immunology, University of Maryland, Baltimore
Professional Experience:
Senior Scientist and Research Group Director- Professor, Department of Oral Medicine and Microbiome Research Laboratory, Cannon Research Center, Carolinas Medical Center, Atrium Health (Charlotte, NC) 2002-present
Senior Scientist/ Group Leader, Prokaria, Ltd. (Reykjavik, Iceland) 2000-2002
NIAID/ National Research Service Award (NRSA) Fellowship in Vaccinology (Bethesda, MD) 1999-2000
Certificate in Epidemiology of Pediatric Infectious Diseases, WHO (Geneva, Switzerland) 1998
Research Fellow/ Bacterial Pathogenesis, Division of Infectious Diseases and Center for Vaccine Development, School of Medicine, University of Maryland (Baltimore, MD) 1997-2000
European Molecular Biology Organization (EMBO) Fellowship in Cellular Microbiology (Heidelberg, Germany) 1995-1996
Postdoctoral Fellow, Pathogen-Host interaction, Pasteur Institute (Paris, France) 1995-1997
Research Assistant and Postdoctoral Fellow/ Molecular Medical Microbiology, Division of Infectious Diseases, School of Medicine, University of Maryland (Baltimore, MD) 1989-1995
Research and Teaching Assistant, University of North Carolina at Charlotte (Charlotte, NC) 1987-1989
Research Interests:
Dr. Bahrani-Mougeot's research oral medicine research laboratory focuses on the discovery and characterization of both microbiomic and human genomic biomarkers for the understanding and diagnosis of several oral and systemic diseases/ pathological conditions including Sjögren's syndrome, infective endocarditis, and cancer therapy associated oral complications such as oral mucositis, radiation caries and periodontal disease. The team has also initiated research projects to determine genetic risk factors associated with COVID-19 severity. The group utilizes next generation sequencing technology (targeted or genome-wide) for the analysis of microbial metagenome and human genetic polymorphisms using patient samples. We also use molecular techniques and cell culture models for the functional characterization of candidate biomarkers. In addition, we employ computational biology bioinformatics tools, including advanced text mining, to establish interactive knowledge-based databases. These databases will serve to characterize molecular interactions pertaining to disease pathophysiology and progression or interactions between the microbiome and the host. These areas of research are relevant to drug discovery or repurposing of drugs and to the development of diagnostic tools. Projects include microbiomics and genomics to understand cardiovascular disease and cancer; biomarker discovery for Sjogren's syndrome.
Microbiomics
Cardiovascular diseases
We are investigating the conditions and mechanisms by which infective endocarditis (IE)-associated species within the microbial sub-communities in oral cavity promote bacteremia and hence increase the risk for IE. A better understanding of these mechanisms can be achieved in part by comparing patients who underwent antibiotic prophylaxis (AP) to those who did not. Ultimately, treatment strategies limiting the use of AP which may lead to the emergence of antibiotic resistance, including IE-associated species, may be developed.
We have also provided evidence that Porphyromonas gingivalis is the most abundant species detected in clinically healthy coronary and femoral arteries of patients with cardiovascular disease. The detection of 229 species besides P. gingivalis suggests the involvement of oral pathogens in predisposing to cardiovascular disease.
Oral microbiome and cancer therapy-associated oral complications
We have determined oral microbiome profile changes characterizing patients with hematological cancers undergoing conditioning therapy prior to hematopoietic stem cell transplant (HSCT) who developed oral mucositis following conditioning therapy. We showed that for patients who developed ulcerative oral mucositis, the average relative abundance decreased for Haemophilus parainfluenza in oral samples, a species known as mucosal surfaces protector, but increased for Escherichia-Shigella genera. Our study concluded that post-conditioning oral mucositis might contribute to long-term oral microbiome changes, mainly affecting Gammaproteobacteria, in HSCT patients.
In another study, we investigated caries-associated oral microbiome profiles in head and neck cancer irradiation patients. In patients who developed caries post-RT, the average relative abundance of Prevotella melaninogenica was elevated, compared to those who did not. Prevotella melaninogenica is a bacterial species often associated with severe caries in young children which develop on smooth dental surfaces normally refractory to caries, similar to radiation caries. The average relative abundance of the health-associated species, Abiotrophia defective, decreased in the group who did not develop caries, while levels of Streptococcus mutans were similar to those of patients who developed caries. Overall, the oral microbiome underwent significant changes in radiation treated HNC patients, whether they developed caries or not. Thus, patients who develop caries might be more susceptible to certain species associated with oral disease or have fewer potentially protective oral species.
Genomics
Genetic risk factors in cancer-therapy associated oral complications
Oral complications frequently occur in head and neck cancer patients treated with radiation therapy (RT). For example, we have identified SNPs in collagen gene sets explaining periodontal disease progression following RT in patients with head and neck cancer, using exome sequencing. Patients with pre-RT periodontal disease who exhibited post-RT periodontal disease progression were characterized by SNPs predicted to exert a detrimental effect, within a collagen interaction/regulation network. Instead, patients with pre-RT periodontal disease who showed no progression post-RT were mainly characterized by SNPs in collagen interaction/regulation network predicted to be beneficial.
Biomarker discovery and functional characterization
Sjögren's syndrome
By combining text mining and molecular pathway analysis tools, we have established a knowledge-based gene expression database for Sjögren's syndrome and related rheumatic diseases and identified LEF-1 and ETS-1 as novel significant pathogenesis biomarkers. We confirmed the overexpression of LEF-1 and ETS-1 in labial salivary gland (LSGs) biopsies by qRT-PCR, Western blot analysis and immunohistochemistry. In addition, we have demonstrated telomere instability in labial salivary glands and saliva DNA of Sjögren's syndrome patients, possibly involving a mechanism mediated by LEF-1, the expression of which was highly correlated with that of the telomere maintenance gene ATM.
Publications:
Microbiomics
1. Mougeot J-LC, Beckman MF, Almon KG, Morton DS, von Bültzingslöwen I, Brennan MT, Mougeot FB. Lasting Gammaproteobacteria profile changes characterize hematological cancer patients who developed oral mucositis following conditioning therapy. Journal of Oral Microbiology 2020