UNC Charlotte, Gaston College, Rowan-Cabarrus Community College Collaborate to Increase Life Sciences Graduates with NSF Support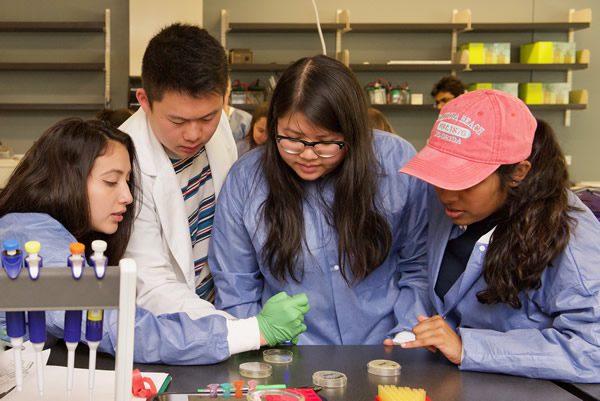 Academically talented, economically disadvantaged students who want to study biological sciences can find life-changing opportunities through a new regional partnership among UNC Charlotte, Gaston College and Rowan-Cabarrus Community College.
This innovative initiative is the result of $4.5 million in funding from the National Science Foundation's Scholarships in Science, Technology, Engineering and Mathematics (S-STEM) program. The collaborative effort seeks to increase the number of students who complete both associate of science and bachelor's of science degrees in the biological sciences.
The initiative – called the SPARC4, or STEM Persistence and Retention via Curricula, Centralization, Cohorts and Collaboration Project – will provide 156 scholarships for five years, beginning in fall 2018. The initiative is an expansion and scale-up of a project at Gaston College called SPARC3 that resulted in improved academic scores for the participating students and higher percentages of that college's students completing their associate degrees when compared to the college's general population.
For each year of the new initiative, 10 to 12 students at each community college will be chosen for one-year renewable scholarships, faculty and peer mentoring and targeted advising designed to promote successful transfer to the biology or pre-biology major at UNC Charlotte in the College of Liberal Arts & Sciences. Students will be eligible for continued scholarships and academic support when they transfer to UNC Charlotte.
While the initiative will work with specific students at the three institutions, knowledge gained from the partnership holds the potential for broader impact, academic leaders say. This anticipated impact particularly relates to upward mobility, which can be linked to educational attainment levels.
"This partnership will accomplish much more than helping these specific students," said Joan Lorden, UNC Charlotte provost and vice chancellor for Academic Affairs. "The initiative will help all three partners implement and then study interventions to find out what works best to help these students, and others like them, succeed. We can then apply these proven interventions more broadly, with far-reaching impact at our institutions and elsewhere."
Gaston College's successful SPARC3 project began in 2009; it has shown increased rates of students transferring into STEM majors at North Carolina universities, in addition to improved academic scores and associate degree completion by those students. The new initiative will draw from that work and the efforts of SPARC3 program leaders at Gaston College: Ashley Hagler, SPARC3 director, Melissa Armstrong, Science and Mathematics chairperson, and Heather Woodson, associate vice president of Academic Affairs.
"We expect to see additional students finishing their degrees and transferring to UNC Charlotte as a result of this grant," said Woodson. "The impact on Gaston College and our partner institutions in this initiative will be very positive, and the effects on individual students in our community will be profound. The new partnership will allow community college transfer students to benefit from an enhanced student experience and significant financial support at both the community colleges and UNC Charlotte. We also will be able to more closely track student performance after transfer."
The partnership effort is expected to expand participation in STEM fields by a more diverse population.
"We are proud to work collaboratively on this initiative. Increasing the number of students pursuing careers in STEM fields is critical to diversifying the science and technical expertise in our region," said Carol S. Spalding, president of Rowan-Cabarrus Community College. "This grant will help support students who will really benefit from additional mentoring and financial resources."
The students will be members of discipline-based learning communities at the community colleges and UNC Charlotte. They will participate in hands-on research opportunities and inquiry-based activities in STEM courses. Each of the partner institutions will also emphasize student-centered learning by redesigning STEM courses in which students frequently struggle. With the course redesigns, the project will directly benefit more students than just the scholarship recipients.
At UNC Charlotte, the scholarship recipients will benefit academically from enrolling together in sections of required courses outside the biology major where those majors have historically struggled. These courses will feature the use of peer mentors trained specifically to address transfer student issues. They also will have the opportunity to work on research projects with UNC Charlotte biological sciences faculty and to present their work at professional conferences.
"Students who transfer to UNC Charlotte in the biological sciences from community colleges can find the transition difficult, and many drop out, particularly those who have not completed their associate degrees," said Elizabeth Stearns, SPARC4 project director and UNC Charlotte sociology professor. "Academic, financial and social support can increase the graduation rate for these students, and we believe our new partnership will allow us to use that support to intervene at critical moments for these scholars at all three institutions."
The regional partnership is expected to contribute to the nationwide conversation around the issue of what helps – or hinders – community college students as they strive for careers in STEM fields, particularly in the life sciences.
Collaborators at each institution include faculty from diverse disciplines, as well as institutional leadership. At UNC Charlotte, in addition to the College of Liberal Arts & Sciences, partners include the University Transfer Center, which is a resource for transfer students. Each year, UNC Charlotte welcomes more community college transfers than any other North Carolina college or university.
The contact person for fall 2018 scholarships for students at Rowan Cabarrus Community College is Biotechnology Program Chair Carol Scherczinger. At Gaston College, the contact is Chief Development Officer Julia P. Allen. At UNC Charlotte, qualified students will be invited to participate.