2023 SACNAS National Diversity in STEM Conference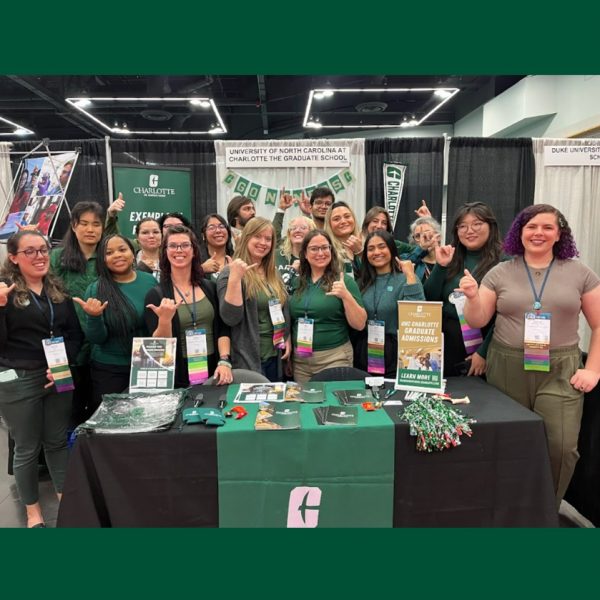 This past spring, the SACNAS Charlotte Chapter hosted an abstract and scholarship writing workshop to help our members apply to present their research at the conference and secure full travel funding to attend. Our members received:
7 Travel Scholarships
6 Officer Leadership Scholarships
1 Postdoctoral Leadership Institute Scholarship
…totalling approximately $35,000 in travel funding! These awards covered registration, flights, hotels, and additional leadership training for those that received leadership scholarships. Additional funding for two attendees was provided by the university's ADVANCE Office and one attendee was funded by the Department of Biological Sciences.
Of those that attended, 12 presented their research at the conference. We had 4 undergraduate poster presenters, 5 graduate poster presenters, 2 graduate oral presenters, and 1 postdoctoral oral presenter. Of these, two presenters won awards for outstanding undergraduate research! I would like to congratulate Prashant Jha of the Chakrabarti Lab and Elizabeth Abedi of the Truman lab for each receiving the Undergraduate Poster Presentation Award in Cell/Molecular Biology! I'm incredibly proud of the work that everyone did to present their research and I'm ecstatic that two of our undergraduate researchers brought home awards. 
We would like to acknowledge Dr. Paola López-Duarte for winning the 2023 SACNAS Distinguished Mentor Award for her work with the SACNAS Charlotte Chapter. The SACNAS Charlotte Chapter nominated Dr. López-Duarte for this award earlier in the year and she was acknowledged during the conference for her efforts as a mentor to our officers, members, and to the students in the Department of Biological Sciences.